Hello Unalayee Friend,
Well, the Mosquito Lake Basin may be covered in snow (and hopefully will be for many more months), and as strange as it is to think of sunbathing at the lake while wearing your scarves and winter coats, it is in fact time to start getting ready for summer camp!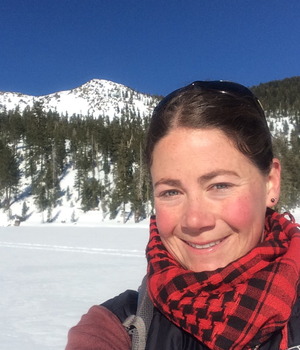 I spent the New Year's holiday up at our Trinity Alps base camp and I'm happy to report that there is already a good layer of snow covering our basin. As those of you that live in California know, we still need a lot more rain to recover from the extreme drought we are in, but the good news is that we are in a much better place than we were last year at this time. Up at Camp we have already exceeded the total precipitation for the 2013-2014 weather year – and we still have six more months to go!
I'd like to invite you to check out the photos from our trip on Picasa. We have also been having fun comparing the snow levels from New Year's 2014 and 2015 on Facebook.
Here is one of our recent comparisons: the Mosquito Lake outlet (2014 on the left, 2015 on the right).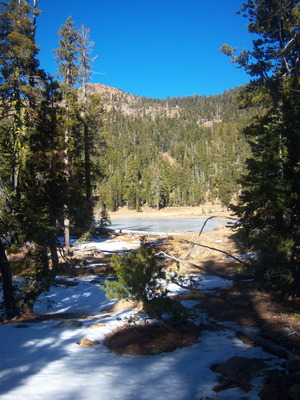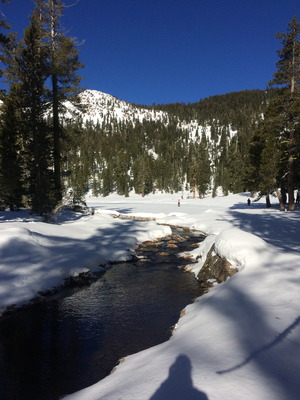 Back in the Bay Area we are getting quite busy planning for this coming summer. Enrollment is in full swing, we're taking applications for summer staff positions, and everyone is starting to gather all the equipment we need for the summer – including an upgrade to our vehicle fleet!
I'm looking forward to seeing you soon and counting the days till we are back together in our summer home.
Sincerely,
Sarah Camp
---
2015 Unalayee enrollment has begun! We've got kids signed up for all our sessions and more are coming in every day! Pay your fees in FULL by March 15th and receive $175 off with our Early Bird Special. Check out our rates and dates for Summer 2015 and then use the button below to sign-up for camp today!
Don't forget about Family Days! Just like last year we'll be doing two programs: a 4-night program where families will eat in "tribe" units – just like kids in our regular sessions do – immediately followed by a 2-night program where everyone has meals together. We've gotten some great feedback on how we can make both programs even better this year and can't wait to put the new ideas into action! Use the button below to enroll today!

---
Reintroducing: Unalayee Urban Explorers!
We are ecstatic to announce that this spring we will be bringing back this new program for six to ten year olds that we launched last spring! Come spend six hours on the weekend in Berkeley's Tilden Park with our fantastic staff members. Give your kids an introduction to nature while staying close to home – and while you are at it, learn more about our summer camp programs and become familiar with Unalayee and what we do!
Use the button below to learn all the details and sign-up!

---
We are looking to acquire a new passenger vehicle for the Summer 2015 season. We've realized that it's not practical or responsible to use our large backcountry vehicles for many of our transportation needs. You can help us, by donating the car you have been planning to get rid of! Use the button below to get all the details on what we are looking for and how you can donate.
---
Meet Unalayee in the Bay Area this Winter
Choosing the best summer camp experience for your child can be difficult. It often really helps to have your questions answered in person. Come meet a Camp Unalayee representative at one of these events, learn more about our programs, and have your overnight summer camp fears put to rest!

---
Last newsletter's photo contest was a little different. Not many people actually knew when we became an independent non-profit.The answer: 1956And now for an easier one! Can you identify this lake even though it is partially covered in snow?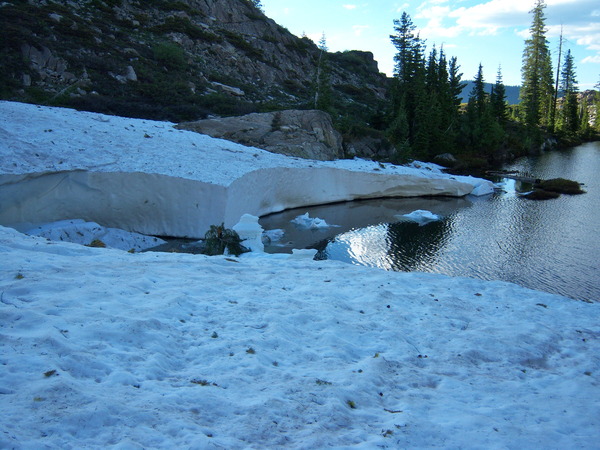 Be the first to e-mail us with the correct answer and we'll send you a tote bag!